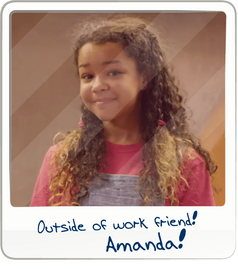 Amanda is
Agent Olympia
's best friend outside of work. She was introduced in Olympia's video series
OddTube
, through mentions and cameos before finally appearing in the show in the episode "The Ball Pit". It is unknown whether she will appear in the show or not.
Personality:
Amanda is very supportive of Olympia, and while she doesn't work at Odd Squad, she is a fan of the organization.
Ad blocker interference detected!
Wikia is a free-to-use site that makes money from advertising. We have a modified experience for viewers using ad blockers

Wikia is not accessible if you've made further modifications. Remove the custom ad blocker rule(s) and the page will load as expected.