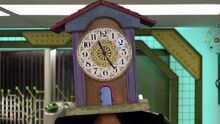 Clockhead Ladies roam around headquarters with the help of Odd Squad agents. They can either be really nice or really annoying, and sometimes change their mood without warning. A good way to get them to be your friend is to tell them what time it is.
Another method of befriending a Clockhead Lady is through dance. They are fond of dancing, and are likely to join you if you ask them to dance with you. This method of befriending a Clockhead Lady was demonstrated by Oscar in one of his training videos.
Appearances
Ad blocker interference detected!
Wikia is a free-to-use site that makes money from advertising. We have a modified experience for viewers using ad blockers

Wikia is not accessible if you've made further modifications. Remove the custom ad blocker rule(s) and the page will load as expected.