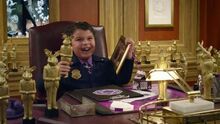 Mr. O is the head of the Squad of the next town over. He's won the Jackie Awards since year one, until Ms. O won in The Jackies. His real name is Orville. His squad also has a "No Fancy Chair" policy.
As of O is Not For Over, Agent Olive and Agent Otto are his successors.
Some of his agents are as follows:
Gallery
Ad blocker interference detected!
Wikia is a free-to-use site that makes money from advertising. We have a modified experience for viewers using ad blockers

Wikia is not accessible if you've made further modifications. Remove the custom ad blocker rule(s) and the page will load as expected.