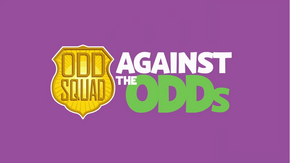 Odd Squad: Against the Odds is a special that aired on October 5th, 2015. It consisted of Undercover Olive Parts 1 & 2 , By the Book, The Curious Case of Pirate-itis, and Not So Splash. The special was part of the PBS Kids promotional campaign: "Oddtober!"
Gallery
Ad blocker interference detected!
Wikia is a free-to-use site that makes money from advertising. We have a modified experience for viewers using ad blockers

Wikia is not accessible if you've made further modifications. Remove the custom ad blocker rule(s) and the page will load as expected.