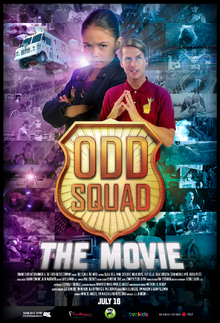 Odd Squad: The Movie is a full-length Odd Squad movie that was released August 1st, 2016. The Movie is about 66 minutes long, and followed by the episode "Night Shift" and "Put Me in Coach."
It played in 90 theaters in Canada on Saturday, July 16 at 11 am[1].
Plot (contains spoilers):
When a rival group of adults named The Weird Team arrive with a gadget that can fix any odd problem, Odd Squad is run out of business, and are forced to disband to return to their lives as normal kids. When they learn the gadget isn't solving problems, but actually covering them up, the original Odd Squad agents, Olive and Otto, return to team up with the new Odd Squad agents, Olympia and Otis. Together, they use math and teamwork to disprove Weird Team and prevent rampant oddness.
TV Broadcast Description:
ODD SQUAD: The Movie Premiere Date: August 1 In this feature-length ODD SQUAD event, a rival group of adults that calls itself Weird Team arrives with a gadget that fixes any odd problem. As a result, Odd Squad is run out of business and all the agents are forced to disband and go back to their lives as regular kids. Using math skills and teamwork, the kids discover Weird Team isn't actually solving problems, but just covering them up. The Season 2 cast teams up with the Season 1 cast to stop Weird Team and save the world from destruction.
Trivia:
Historically speaking, this movie is the first time the Season 1 cast and the Season 2 cast have been on-screen together.
Songs:
Odd Squad Forever
Something Weird Has Happened
The Saddest Song in the World of All Time
They Saved The Day
Gallery
Cite error: <ref> tags exist, but no <references/> tag was found
Ad blocker interference detected!
Wikia is a free-to-use site that makes money from advertising. We have a modified experience for viewers using ad blockers

Wikia is not accessible if you've made further modifications. Remove the custom ad blocker rule(s) and the page will load as expected.