The Jackalope seal is the official emblem of Odd Squad.
Physical Description
The Odd Squad seal depicts a jackalope looking to the left (his right) standing on it's back legs. The animal is holding a red shield shaped like an agent badge, which has a smaller seal in the center that depicts the same jackalope holding the same badge-shaped shield. On either side of the jackalope is a banana bunch. All of this is held within a blue circle, with an outter white ring made up of 16 gold stars. There is also an outter black ring, which sometimes appears to be navy.
The seal on the floor of headquarters varies slightly. While the imagery is identical, it only has two gold stars (one on the left and right side) and reads "E WEIRDIBUS BIZZAREUM" on the top, and "STRANGEUS NON NORMALUR" on the bottom.
Symbolism and meaning
The stars represent how every kid is a star
The bananas are a reminder not to take yourself too seriously
The jackalope is Odd Squad's mascot, and is a combination of a Jack Rabbit and an Antelope
Appearances
The Odd Squad seal can be found almost everywhere in the agency, including (but not limited to)
Clothing and Accessories

Toques/hats/beanies
Headbands
Training t-shirts and sweatshirts
Shoes
Belt Buckles
Aprons
Bags

Official documents and folders
Buckets
Water coolers
Desktop backgrounds and screensavers
The floor of the main office
The main doors
Original seal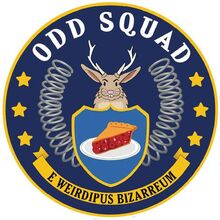 The original seal appears only in the series pilot. It also depicts a jackalope, but the animal is staring straight ahead and standing behind a blue shield with a picture of cherry pie in the center. On either side of the creature and the shield are silver springs, and three stars. The top of the seal reads "ODD SQUAD" and the bottom has a banner that says "E WEIRDIPUS BIZARREUM"
Ad blocker interference detected!
Wikia is a free-to-use site that makes money from advertising. We have a modified experience for viewers using ad blockers

Wikia is not accessible if you've made further modifications. Remove the custom ad blocker rule(s) and the page will load as expected.