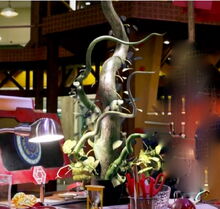 Robert Plant is a plant that belongs to Obfusco. Robert Plant comes with a thick instruction manual on the proper way to care for him. Obfusco left it with Olive and Otto while he was on vacation, and Olive over-watered it, leading to the overgrowth of the plant inside HQ. His brothers are named Jimmy, John, and John Paul.
Appearances
Trivia
Robert Plant, Jimmy, John, and John Paul's names are a reference to the band Led Zeppelin
Gallery

Ad blocker interference detected!
Wikia is a free-to-use site that makes money from advertising. We have a modified experience for viewers using ad blockers

Wikia is not accessible if you've made further modifications. Remove the custom ad blocker rule(s) and the page will load as expected.