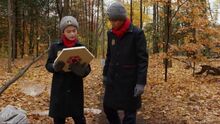 Sector 21 is a dangerous forest with sparkly rocks, yellow flowers, laser chickens, spider cats, fire toads, motorcycle monkeys, and a rock statue. It is the home of Bespectacled Man and Logan the Ogre, and the tube system runs through it. There is also a secret tube entrance in the heart of the forest. It appears quite pretty, but beware: after sundown the forest comes to life!
Episodes
Creatures
Gallery
Ad blocker interference detected!
Wikia is a free-to-use site that makes money from advertising. We have a modified experience for viewers using ad blockers

Wikia is not accessible if you've made further modifications. Remove the custom ad blocker rule(s) and the page will load as expected.