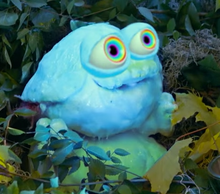 The Squanzo Bonzo is a cheerful little creature that cries non-fat strawberry yogurt, though it is difficult to make him do it due to his continual optimism.
Appearances
Quotes
"Hi is my favorite word!"
"Difficulty is the best!"
"Best day ever!"
Ad blocker interference detected!
Wikia is a free-to-use site that makes money from advertising. We have a modified experience for viewers using ad blockers

Wikia is not accessible if you've made further modifications. Remove the custom ad blocker rule(s) and the page will load as expected.