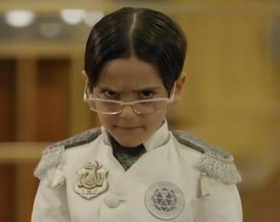 The Big O is the head of all Odd Squads. He can only count to five, and carries two toys with him. He also has an impersonator.
In the movie, he was forced to shut down all Odd Squads when Weird Team rose to power, but reopened them after the Daves invasion.
Appearances
Trivia
His badge number is 15, so his name is simply "O"
Ad blocker interference detected!
Wikia is a free-to-use site that makes money from advertising. We have a modified experience for viewers using ad blockers

Wikia is not accessible if you've made further modifications. Remove the custom ad blocker rule(s) and the page will load as expected.